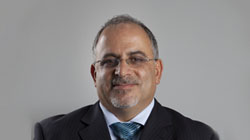 BIPA Starts to Receive the Best Practices Workshop Papers in Arrangement for Euro MENA Conference
Senior Advisor to Learning and Development in the Institute of Public Administration (BIPA), Executive Coordinator and Director of Research of Middle East and North Africa Public Administration Research Network (MENAPAR) Dr. Sofiane Sahraoui, declared the start of receiving the best practices workshop papers, which will be launched before Euro MENA Dialogues Conference to be hosted by Institute of Public Administration in Oman (IPA) next October. The workshop will be held on 24th October. The best Arab practices in public administration and the outcomes of the joint ventures of the 2nd MENAPAR Conference held it Tunisia last year will be presented.
Dr. Sahraoui said that the workshop would be held on the sidelines of the conference in pursuit of establishing a fruitful cooperation between public administration academics and practitioners. He said it would be dedicated for researchers and Ph.D. holders in the Arab states to discuss a variety of public administration issues between Arab region and Europe.
He added that the best practices workshop would include five states' participations and use of a creative model (UNDP knowledge fair) for events organization and that it aims at giving young researchers the opportunity to get involved in general discussions with public administration practitioners, presenting the best practices reports to an expert committee to approve them and developing new mechanisms of motivational awards for the best practices in public administration.
Participants are allowed to apply with case studies in written, video tapes, graphic presentations or scenario forms. Best practices will be grouped in one session; one and a quarter hours for each session, at a rate of five sessions per day. In-tandem sessions will be held to represent the contributions, which are considered as highly evaluated and recommended by the expert committee.
Those who would like to take part in the workshop should send their Arabic papers to menapar@bipa.gov.bh, while the English and French papers should be sent via http://www.med-eu.org/euromena2016 by 1st June. a paper may not be more than a couple of pages or 1000 words. Papers approved will be declared on 30th June and final versions of the papers approved will be submitted on 3rd October.