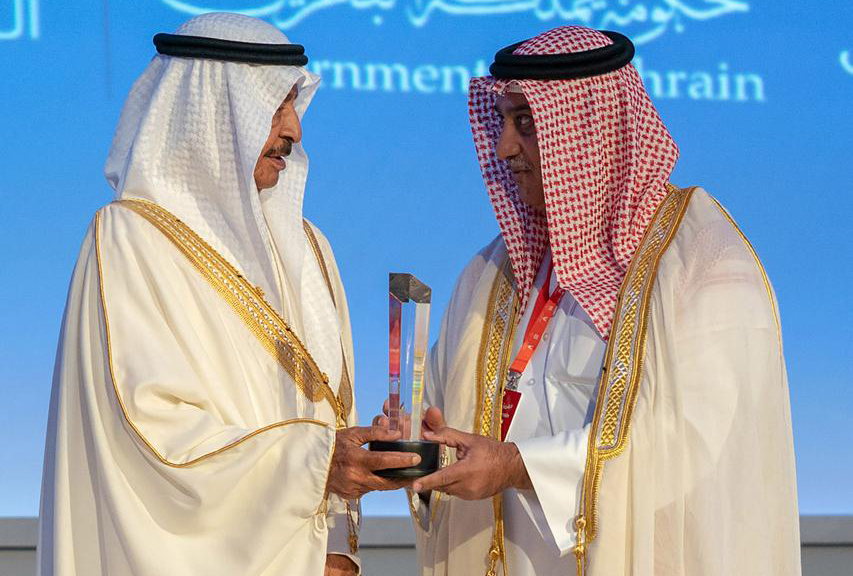 The Bahrain Institute of Public Administration (BIPA) Bags the Award of Customer Communication Excellence in the 2018 Government Conference
His Excellence Dr. Raed Mohammed Bin Shams, Director General of the Bahrain Institute of Public Administration (BIPA), asserted that BIPA's landing of the Award of Customer Satisfaction during the 2018 government conference which was organized under the auspices of His Royal Highness Prince Khalifa bin Salman Al-Khalifa, the Prime Minister and on the initiative of His Royal Highness Prince Salman bin Hamad Al-Khalifa, the Crown Prince, Deputy Supreme Commander and the First Vice President of the Council of Ministers, adding that the award has charted for BIPA a fresh government pathway that keeps pace with the demands of the upcoming stage of outstanding government process operation promising quality achievements and unlimited participation.
Dr. Bin Shams added that the government conference has been transformed into a stimulus government platform for innovative government process, thereby contributing to the promotion of the public sector performance in line with a high level of integration which in turn made possible realization of the government objectives sustained effort to consolidate the outputs in a way that best serve the citizen. He added that the government conference has been active in urging all government organizations to perfect the work and enhance performance in a way conducive to realization of the objectives sought by the government and attainment of maximum satisfaction levels in offering government services.
Dr. Bin Shams further explained the Customer Communication excellence award effectively reflects BIPA's ambition to achieve inspiring pioneering spirit that exceeds the aspirations to elevate the standards of the services offered to the citizens. It also serves as a vehicle to take advantage of creativity and innovation as basic tools to advance our institutional objectives in a way that would allow for spawning innovative enterprises, creative solutions for the challenges that face the government. We as part of the Bahrain Team aspire to have our projects and initiatives channeled basically to the service of the Kingdom of Bahrain and satisfaction of the citizen's aspirations through consolidation of our efforts to attain sustainable development.