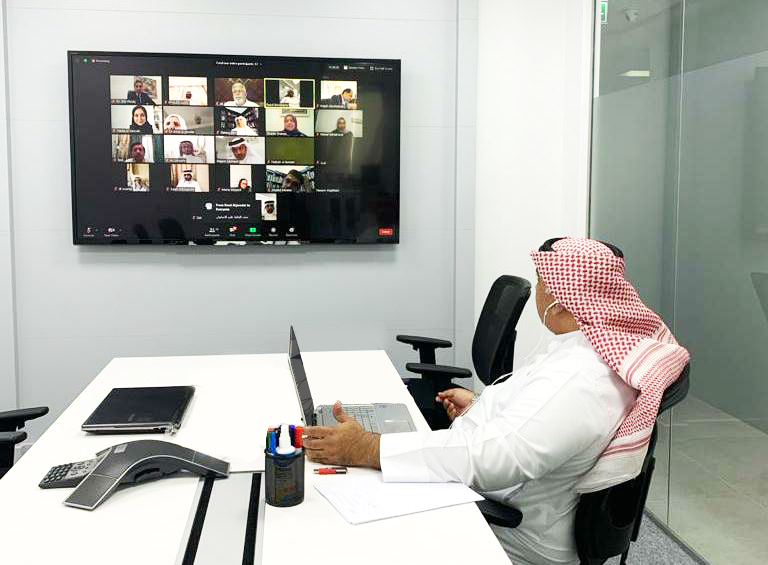 BIPA organizes the first on-line trainers' forum
His Excellency, Dr. Raed Mohamed Bin Shams the Director General of Bahrain Institute for Public Administration BIPA, affirmed that the Institue strives today through definite and studied plans aimed at continuing to making the Administrative intellect the dynamo for administrative Sciences, this making the Kingdom of Bahrain, represented by the Institute, a front for the development of Administrative Sciences locally and globally.
He said this will be achieved by creating knowledge and science in the various disciplines in Administrative science, and achieving integrations in the education services provided in cooperation with the specialists, in order to sustain the learning and development system that simulates national and global trends and contributes to achieving advanced indicators on the scale of global competitiveness
His statement came during his presentation at the First Online Forum for trainers,that brought together eighty (80) certified trainers from the Kingdom of Bahrain and the Arabian Gulf.
Dr. Bin Shams added that the First Online Forum for Trainers is a new electronic platform, through which the Institute strives to develop the strategic partnership that binds them with certified trainers by exchange of a variety of scientific and practical expertise and research in creating the curricula for training and education which will enhance the governmental outputs and develop the national leaderships.
He pointed out that the forum provides a real chance in light of the current circumstances, to come out with varied and innovative solutions and initiatives and an opportunity to use information technology extensively to further keep pace with the modern technology.
Dr. Bin Shams explained that the virtual sessions of the forum shed light on the challenges faced by the Institute's partners, in particular the category of certified trainers, with the aim of discussing and sharing for the purpose of finding suitable solutions, also discussed st the forum was the fast transformation of the process of learning and development and the importance of investing in techniques and modern technology as well as the sustainability of the system of learning and development in times of crisis and the importance of investing in scientific research which will raise the educational outputs.
It is worth mentioning that the forum concluded with a number of recommendations among them, being the need to diversify and modernize training methods to be at par with the modern trends by using technology at developing the scientific content and creating intensive interaction in the virtual learning environment, in addition to allocating a platform for the community of experts, for trainers to exchange knowledge, towards intensifying the networking process and joint cooperation, as it also stressed on the need for a database that includes research and scientific sources to enrich the syllabus packages and scientific materials.